ORT INDIA'S ROLE IN THE BNEI MENASHE COMMUNITY
The Indian Jewish community is spread throughout the country, and while the majority of Jews live near Mumbai, there are smaller communities living in more remote parts of the Indian subcontinent.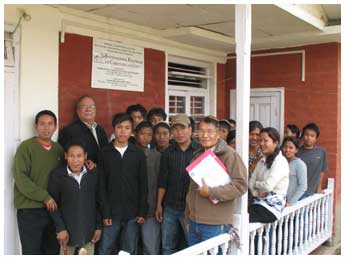 One of these is the community of Bnei Menashe – Israel's lost tribe.
The Bnei Menashe tribe is located both in Manipur and Mizoram, two states in north east India. Tribe members numbering almost 7,000, claim to be decedents of the Menashe Tribe that was exiled from the Northern Kingdom of Israel in 721 BCE.
ORT has played a vital role in imparting vocational training to students from Mizoram and Manipur for the last 30 years. Since 1980, young students from Mizoram and Manipur were brought to ORT India to study various trades. Girls were taught skills like Hair Dressing and Beauty Care, Secretarial Studies and boys were trained in Mechanical Draughtsman, Carpentry, Turners, Fitters, Electronic Mechanic and Computer Education. ORT India has helped students from Manipur become independent and contributing members of their own society.
"We at ORT are very proud that we can give the Bnei Menashe community quality education and make them ready to meet the future. We are very, very happy that these young people are gaining a foundation for a safe life ahead."
ORT-Manipur Computer Centre: The Imphal Computer Center, located in the Zion House, Imphal, Manipur, was established on July 27, 2008 with generous donation from the International Federation of Christians and Jews, USA. The Centre consists of a computer laboratory with 5 terminals and a classroom and can accommodate up to eight students at a time. It provides vocational training for the local Bnei Menashe community as well as the local non-Jewish population. To date, 254 (85) community members have acquired basic computer skills at the center.
Established with the objective to provide with the most advanced, up-to-date vocational training. The long term goals of the project is to give young members of the Bnei Menashe the knowledge and skills they need to improve their lives by entering the modern employment market place and becoming economically self-sufficient.
ORT-TSUNAMI COMMUNITY ASSISTANCE PROJECTS
Andaman and Nicobar Educational Quality Improvement Programme (ANEQIP): Andaman and Nicobar Educational Quality Improvement Programme (ANEQIP) was instituted as a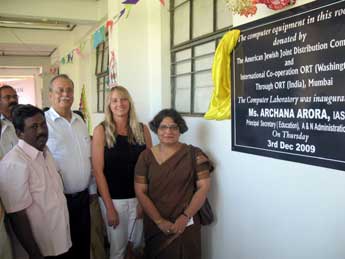 direct result of the devastating December 2004 tsunami on the remote Andaman and Nicobar (A&N) Islands, located in the Bay of Bengal, India. Following the disaster, media attention and NGO efforts extensively covered projects along the south-eastern Tamil Nadu coastline, whereas the Andaman and Nicobar Islands were largely ignored. ORT specialists were dispatched to the region within weeks of the disaster to assess the situation, draft a work plan and to identify local partners in order to contribute to the long-term rebuilding and recovery process.

ORT teamed with Bharatiya Jain Sanghatana (BJS), a local Indian NGO, to launch and support the Andaman & Nicobar Educational Quality Improvement Project (ANEQIP) in the tsunami-affected communities. ORT International Cooperation office, located in Washington, D.C., managed the project in close collaboration with ORT India and BJS.
The project commenced on May 29, 2005. The project supported 20 Government Primary Schools (GPS), Government Middle Schools (GMS), and Government Senior Secondary Schools (GSS). ORT and BJS provided school enrichment and curriculum program initiatives through the introduction of a basket of 12 education program, for faculty and students: computer education/multimedia training, school administration software, accreditation program, management training program, aptitude assessment and evaluation, teacher training program, moral and value education, child youth and development, disaster management, extracurricular activities, social service awareness, and student, teacher and staff awards.
ANEQIP focused on improving the overall quality of education through an accreditation process. Schools underwent SWOT analysis (strengths, weakness, opportunities and threats), as did teachers, parental involvement, student participation, school curriculum, infrastructure, etc.
The prime objective of the education project was to develop the capability in children to be able to meet the increasing competitive challenges and be 'future ready'. It is estimated that over 12,500 students and several thousand teachers have benefited from the program, and countless more will also in future years.
Computer Education for select schools of Port Blair, Andaman and Nicobar Islands: As part of Andaman and Nicobar Educational Quality Improvement Programme, (ANEQIP), schools were granted a few computers for training school administrators and teachers.
ORT adopted 5 of the 20 schools for enhancing computer education by way of donating 41 computers as adding to the existing strength of computers.
In early 2009 ORT installed 41 computers and inaugurated IT laboratories in five schools.
ORT introduced multi-media technology by providing multimedia CDs covering the curriculum for 10th and 12th grades to help children understand core concepts in subjects like math, science, literacy thereby developing the skills of critical thinking, analysis and scientific inquiry.
Feedback was extremely positive from the principals, teachers and students, as well as the Directorate of Education. In particular it was found that the Multimedia educational CD's were very useful.
In general, these computer labs are creating a technologically educated school population and are enabling students to enter the workforce with far greater skills. This in itself has generated an even more widespread appeal from the Directorate of Education and other schools in Port Blair for installation of similar laboratories and has become a model for the future education of the Islands.